New Mobile Web Hosting Control Panel
After months of extensive testing and interface adjustments, we have finally released the mobile version of the Web Hosting Control Panel. From now on, mobile users will be automatically redirected to the brand new phone-friendly Control Panel interface. What's ...
Read More
Web Hosting
Good web hosting can be hard to come across, Key Space can be key to website hosting. Hosting your websites with us is quality, cheap and very easy.
Your web space may consist of many files, many big files. Our website offers suit all your internet and web space needs.
If you are new to website building and need to know more about how web hosting services work, please click here.
Our web hosting starts from only as little as £3.99 a month UK (England) and $6.18 USA! So start browsing our great affordable website hosting plans for your website or websites now, but its not just all about low cost, affordable web hosting,

hold a a very good standard in quality web hosting.
Web hosting is the key to delivering your website to internet users, at Key Space Hosting our good standard in the hosting industry will provide you with tool's for promoting your site, managing your website making sure you get every benifit you can. Whether you are just starting out with a first web hosting plan or you are an advanced user, our control panel will fit your skills. Finding the right web hosting is relevant to keeping your site alive and online. Thats why we provide cheap hosting and a 30 day money back guarantee. You won't go wrong with our servers powering your site. Domain's are easily transferred to your new web space if you need them to be, you can register your domain name transfer your domain name and just relate the DNS to our servers to keep all your web content in one place inlcuding both file hosting and domain name server. The server you will be hosted on is monitored 24/7 to keep minimal downtime, and our guaranteed 99.9% uptime. File hosting has never been easier.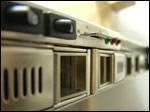 Our servers are stored away in secure data centre's. You can now choose data centre location upon sign up, to give you the opportunity to deliver faster speeds in your higher traffic geographical location area of your web content. The data centres are Blue Square Centre, London England or SteadFast Chicago, Fremont, California, United States. We now have a new addition to our data centre! SiSGroup Sydney in Sydney, Which we think is one of world wide webs most modern and beautiful data centres avaliable. All of our State of the art data centre's are on high speed lines to deliver content fast to all over the world. Take a look at our data centre tour pages to find out more.



What we have achieved, Key Space Hosting have achieved cheap affordable web hosting a great web hosting service, with even web hosting for individual to business size plans, and key space hosting will carry on providing with better server hosting hardware and user software, such as our control panel, as often as possible. For any other help visit our FAQ page or Contact Support.
Do not accept just any cheap hosting space, or web hosting.
Alot of other offers are fake and have hidden costs / fee's, so accept key space hosting, and what we can do for you, the right web hosting service.
Data Centres included in our packages:
Please choose a data centre once you sign up from the compiled list of our best plans.
You can compare website hosting on our site comparison page.